UEFA head showcases an insensitivity in his unwillingness to relax rules allowing players to leave the field if subjected to racial abuse.
In less than twenty-four hours, the best football players of Greece and Poland will take to the field in Warsaw's National Stadium, so pronouncing the opening of the greatest sporting event ever to grace the nation. The European Championships have catalysed a scrutiny and analysis of Polish and Ukrainian culture, from across this football-enriched continent. Such examination has revealed, in gory detail, the true extent of racism and far-right sentiment sweeping both nations. It is a matter which has been discussed and debated at great length.
Undoubtedly, Poland, in particular, has a problem. A recent
Panorama
documentary illuminated a nation awash with racial and political animosity. Outward exclamation of racist ideology is a frequent occurrence at the matches of several Polish clubs, most notably at those involving Wisla Krakow and second-division Stilon Gorzow. The terraces of these clubs, in particular, are a breeding ground for the expedition of extreme right-wing views and mentalities, with recruiters for such syndicates of hate often traveling into the stands, hungry for new members. Stilon Gorzow, in particular, are a club with a horrid affinity with neo-Nazi culture and tradition, caught up in the tide of fascism which has resurfaced in Eastern Europe over the past decade.
Branded. Fans of Stilon Gorzow are notorious for their extreme right-wing views.

In the aforementioned
Panorama
film, Ukrainian powerhouse Metalist Kharkiv was exposed as pertaining fans of right-wing descriptors. It showed stands at the Oblast Sports Complex bedecked with White Power banners and factions of a fandom so fixated with the work of Adolf Hitler that they appeared to enact his infamous
Sieg Heil
salute in mass unison. Such images and descriptions of frightening violence have instilled a widespread skepticism and fear in many fans traveling to the Championships.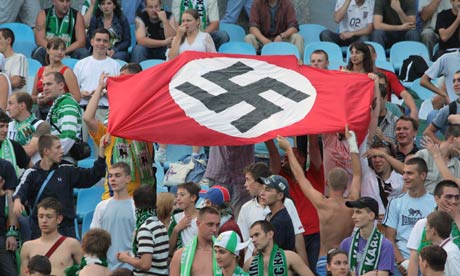 Fans of Ukrainian side FC Karpaty Lviv unfurl swastika

Other clubs in Poland, too, harbour supporters who sympathize with, and subscribe to, views and opinions from another age. However, that age shares a striking resemblance to 1970s Britain. It was a similar brand of endemic racism and hatred which spewed from the terraces of
British
football matches in that misbegotten era. This is why countries such as Poland must look to history for answers, look to history for help, look to history for guidance on how to quell such violence and hooliganism from the confines of its stadia.
However, Michel Platini, the head of UEFA, today poured fuel onto the raging inferno of skepticism and conjecture regarding the social problems of Poland and Ukraine. It was his estimation that any player who walks off a field due to racial abuse, as Mario Ballotelli bluntly professed to do, will receive not help and assistance, not support and guidance, but a yellow card. At a National Stadium press conference, Platini explained how "if a player leaves the field on his own, its a yellow card." Such a draconian interpretation and implementation of the Rule Book is, in this environment, wholly insensitive and highly controversial. By refusing to relax such rules, Platini demonstrates a lack of personable interaction, and empathy. It is just not legitimate to expect footballers to play on unperturbed by abuse which could surface, and could be vociferous, at any moment. Platini has, perhaps uncharacteristically, gauged this issue in an incorrect manner.
Struck a nerve. Platini harsh in his assesment.

Balotelli's initial comments came as a direct response to the newly-instilled power allowing referee's to call a halt to a match if such incidents occur. The enigmatic Italian stated that if racial abuse does happen, he would "
straight away leave the pitch and go home
." The mere fact that we are debating such anachronistic instances of abuse and racial hatred is indicative of how pertinent the problem is, and UEFA should insist on a reflection of the Rule Book most compatible with harmony. This, evidently, is not it.
Whilst there are groups of fans affiliated with clubs in Poland and Ukraine who demonstrate a propensity for racially-motivated violence and disorder, it remains, still a minority. It is not my wish to paint and describe the whole of Poland, or the whole of Ukraine, as cauldrons of Nazi sympathy, nor bastions of racially-aggravating opinion. Both are countries with strong footballing tradition. Both are countries with some of the most inspirational, monumental and vociferous Ultras groups in the world. Both are countries with history and integrity. It is the sincerest hope of the footballing fraternity that European Championships 2012 is remembered not for inflamed bouts of racism and violence, but for beautiful and entertaining football.